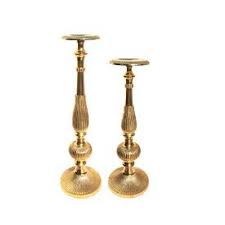 Candle holders are the stands for holding candles in any position. It is available in multiple colors, shapes, designs, and materials. These can add a definition to the room décor as well as prevent the surrounding from getting the fire of the candles. The use of candle holders started decades back when people realized that candles are waxes and they can easily fall over and these can accidentally put the place on fire. Hence, the main motive of using candle stands is to keep the candles stable and out of reach of children and careless people.
In the earlier times, at the beginning days of candle lights, those were the major source for lighting at the dark and fire was a common and dangerous issue during its usage. Gradually with time, people realized the need for candle holders and ethnic and beautiful chandeliers came into existence. Hundreds of candles looked marvelous in the chandeliers to offer a luxury appearance to the surrounding.
Major uses of different types of candle holders:
• Protects from fire
• Offers support for the candles to remain stable
• Makes the light of the candle look more beautiful
• Decorates the ceiling as well as the whole surrounding
• Creates a cozy atmosphere
• Makes the atmosphere peaceful
In a gist, candle stands make the most orthodox form of expressions, and it expresses even better when hand-made.
Why go for buying handmade candle holders?
Well, buying designer candle stands can be costly and you may not get the desired feel too. While making candle holders at home can be a fulfilling and rewarding activity. A handmade candle stand manufacturer in Moradabad puts his hands in making a variety of designs and shapes for candle holders for a range of occasions and thus their products are useful for serving practical purposes of home décor items. For example, if you are partying traditional, the presence of candles in several beautiful and unique handmade candle stands in case of electrical blackout can bring a cozy mood to the party.
Benefits of making candle stands on your own:
1. Money saving: Making candle stands at home is doubt is a money-saving option. Not every home has a generator or inverter, so in case of an electrical blackout, candles are the savior here. And, you will need stands to keep them safe from careless hands. So, making a couple of them at home will save you a few bucks.
2. Moneymaking: Besides saving money, you can also make money by preparing a candle stands at home. Like any other professional handmade candle stand manufacturer in Moradabad, you can set-up your own business. Even you can display your creations at the community events and city fairs.
3. Therapy: You can take candle stand making as a hobby to calm and relax your mind. Craft projects can be therapeutic to de-stress mind naturally.
4. Kids DIY project for summer vacation: Making candle stands at home can be great fun for your kids on the summer holidays. Just remember to help and guide them so that they do not harm themselves.
So, make it a creative hobby to make candle stands at home rather than buying a few expensive ones from the market.