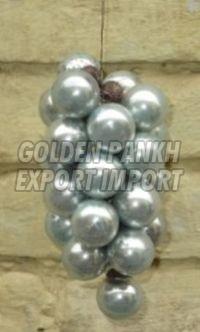 Decorating your space in a new and innovative way requires deep thoughts, calculations and research on this field. You must be thinking why you need to calculate? Well, everyone has a fixed budget for decorating or re-decorating his space. And, crossing the limit may bring you in an unplanned and undesired situation. For that, DIY ideas for home décor always make the best idea. You can also get several homemade decorative pieces online or at the local stores at much cheaper rates, which fits in almost every environment.

Handmade Glass Bubbles for decoration:
If you are looking to add a bit of sophistication, elegance and grace to your decoration ideas, certain materials like glass items always make a foolproof idea. And, what's better if you can make some glass décor items at home. If you lack in time to produce some, just buy some cost-effective handmade glass items from the stores. Trust me, it's the most easiest but effective idea to re-design your house.

Glass materials naturally decompose in about 10 lakhs of years. This, undoubtedly, ends up radically affecting the environs. When you have made up your mind on glass decorations, you can incorporate a variety of ideas to look after all the details to beautify your place. Glass cabinets, screen-printed glass doors, tempered glass staircase, etc. there are many more sophisticated and costly ideas for decorating your place with glass. But in this article, I want to drag your attention on the simple use of handmade glass bubbles. Read on to discover more and get inspired.

Glass bubbles as decorative pieces –
Hanging glass bubbles
If you are looking for some hanging decorative items for your space which look elegant, shiny and enhance the appearance of the area then hanging glass bubbles make the right choice. It looks like a bunch of grapes, so you can find uniqueness in its variety. Hang it on the windows, it will offer some extra lights too by reflection.

Handmade wirework glass bubble wreath
Many of you often like to hang a beautiful wreath on your wall. A floral wreath is a common décor item and you need to change it often as the wreath looks beautiful only with fresh flowers. This never happens with a wirework glass bubble wreath. It is as shiny as always with an easy regular maintenance. You can also get a heart-shaped glass bubble wreath as an added charm to your home décor idea.

Handmade hanging glass bubble tree
In today's world, for a bit of green touch in our bed room or living areas you often place planters with desired plants. A hanging glass bubble tree cannot add life to you but its presence and look can definitely offer you some soothing feeling.

The recognized glass bubbles suppliers in UP can bring you more glass bubble decorative pieces for your space. And, what makes you feel good about glass bubbles are –
• Cost-effective
• Various designs, sizes and colours are available
• Easy available
• Perfect finishing
• Attractive and glossy appearance
So, if you are making your mind to buy some glass bubbles decorative pieces for your space, you are on the right track of mind.
This entry was posted on May, 29, 2020 at 12 : 53 pm and is filed under Glass Bubbles. You can follow any responses to this entry through the RSS 2.0 feed. You can leave a response from your own site.