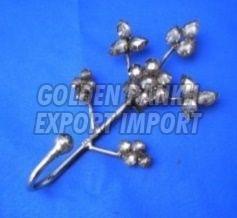 The picture that pops up in our mind when we hear the term 'metal wall hook' is of a hook attached to the wall for hanging different objects. But, these hooks are not just for holding bags and coats. They have the feature to increase the overall appearance of the complete room. Though these hooks are much better in terms of holding necessities, they also act as decorative art pieces. Despite their small size, they add outsize functionality to the room by offering an area to hang bags and articles of clothing which might spread on the floor otherwise.
However, the metal wall hooks are a perfect solution of our needs and for those who want to keep things in the right place. These hooks act as a functional object to hang keys, towels, kitchen essentials, home décor items and lots more. Overall, it avoids the things to be spread on the floor that may cause the room looks messy. Unlike earlier days, these hooks have taken its advanced look and hence, designed in a completely unique as well as distinctive manner in order to add decoration to the walls. Contact the reliable metal wall hook suppliers for the best deals.
Tips to pick the right hooks:
Metal wall hooks are basically available in different styles as well as designs. It is essential to choose the one that better fits the décor. Before picking up the hook, one must keep in mind the following major points:
• The hook must have the capability to take up heavy weight of the items that will be hanged on it. Ensure that the holders are weighted as per the requirements.
• The hooks can be easily drilled, nailed or pasted on to the walls. Before one opt for buying the hooks, ensure to check the wall construction. If the walls are hard and sturdy enough, drill it against the wall.
• The metal hooks are perfect enough to complement the home décor.
• The selection needs to be made according to the rooms. Metal hooks are being used in the living rooms in order to hang jackets, coats, hats etc.
The metal wall hook suppliers in Moradabad are known for delivering quality products at the reasonable rates. These hooks are exclusively designed keeping in mind the importance of look of interiors.
Thus to concludes, it is very essential that the selection of the hooks need to be done according to the rooms. The hooks that are chosen for kids purpose should be a cartoon, floral, numerical in shape and must be bright in color. It will surely add vibrancy to any room. These hooks can be used for hanging their clothes, toys, school bags etc. For a living room, one can buy a classy hook that matches the furniture. For dressing room, one must go for the wall hooks that not only look stylish but, can also accommodate massive space for all commodities.