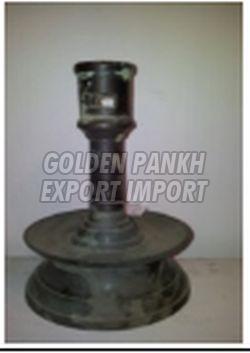 The word handmade means any item which is made by the hand process without the usage of any machinery. This way of manufacturing things was first started in the early seventeenth century. Other definitions incline the versions aspects of craftsmanship. It simply implies that any handmade item is clearly of a higher quality than something which is produced in bulk by machines.
You will also find certain online communities stating that terms like "handcrafted", "hand altered", etc. are synonymous and acceptable with handmade. These words show that even though the materials were not particularly built from scratch, but they have a certainly added twist by the sellers.
There is a famous handmade candle stand manufacturer, Moradabad, in Uttar Pradesh. The companies make a great quality handmade candle stand. These candle stands are made with top-grade aluminium making them resistant to corrosion and abrasion. The handmade candle stand works in many ways. It helps in home decor and also provides light to the entire room.
The different kinds of available handmade candle stands are-
Chandelier Candle Stand- The chandelier candle stands look very elegant and aesthetic. These candle stands were used in previous times and have been a very popular choice among people. The chandelier candle stands work as great décor items. They are showy and work as great eye-catching items.
Taper Candle Stands- The taper candle stand is made by the best handmade candle stand manufacturer Moradabad. These homemade candle stands are used at home and restaurants for dinner settings. These tapered candle stands are skinny in look, and they are very commonly sold in stores. There are many manufacturers in Moradabad who make these taper candle stands.
Lantern Candle Stands- People have used the lantern candle stands for a long time. They work completely fine both indoors and. Outdoors. These lanterns can be placed on stands or even hooks and can be used as beautiful decorative pieces. You can find a variety of designs available in the lantern section. These lantern-style candle stands are also very pleasing to the eyes. They work as great decorative items, as well as it provides a warm and soft light to the room.
Votive Candle Stands- The votive candle stands are for short candles, which are called votive candles. These candle stands are bought shorter than the tapered stands. These stands are pretty small in size and also inexpensive. Usually, these votive stands are up to 2 inches in their height. You can use these stands for some decorations.
As they are inexpensive, therefore, it is easier to buy quite a number of them. No matter in which manner you want to put them in use, and set them up, it will not cost you much money. These are made out of metal usually. There are many of these handmade candle stand manufacturer Moradabad.
Each of the votive candle stands has different designs and patterns, which makes all of them different from the other. The manufacturers in Moradabad put in their effort behind making these candle stands.
There must be many more types of handmade candle stands available in Moradabad. Manufacturers there put in a lot of effort and hard work behind making these stands.