How To Choose The Best Planter?
Posted by Admin on April, 19, 2021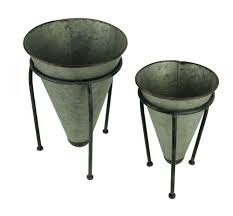 Planting is a passion for some and a hobby for others. Some use this as a natural way to decorate their house whole others think this is the best way to make your environment healthy. But have you ever thought of decorations your house with plants in the garden planters? These are the best thing for augmenting the beauty of your living area. Using different types of garden planters, one can make the home feel like a blooming garden throughout the year. Different types of planters are available in the market these days. Among all the most used one is the metal some shaped planted.

Following are some of the tips that you can use to find the best planter for your garden.
Choose The Right Material Of The Planter
The first thing that you need to choose what type of planters you will use and the materials they are made of. If you want to place the planet outdoors, then it is better that you choose durable materials that can last long. The best materials for the outdoor planters is wood, concrete, plastic, fibreglass and metal. Among all the other materials metal planters is the most chosen one. You can choose terra-cotta or ceramic planters for indoors. Depending on the types of plants that you intend to plant and where you want to place them, you can decide about the shapes and material of the planters.

Consider The Shape
You can find a variety of planter shapes in any store, including bowl, rectangle, square and round planters. The metal cone-shaped planters are very much handy. Trellis planters are very interesting and also you can use hanging planters trough planters.

A Place To Put In
The next thing that you should look is the place where you want to place your plants.
• If you have a balcony and want to set up a small garden with planters in it, a combination of trough players and garden boxes is the best choice.
• For your backyard, you can choose the variety of unique shapes that are available in the market.
• One can also choose the ceramic planters or terracotta in your office or home since they are more suitable to the indoors than the other materials.
• If you have terra-cotta planters you will need to water more often as this is the material which is porous and loses moisture faster than the other materials.
• The metal cone-shaped planters are very attractive and this makes them perfect for using as a home decoration.
In case if you cannot take care of your plants and can not water them every day, a good choice should be self-watering players. Their sub-irrigation system keeps your plants fresh. You can even keep them in places that are very hard to reach. The self-watering planters are perfect if you do not have time to water them or when you are on long trips or vacations.

The Major Considerations
The plants need to be watered regularly but you mustn't water them. Therefore buy a planter with a hole on the bottom of it. The metal cone-shaped planter exporter takes care of this feature and provides a slender body with a hole. Therefore choose the best exporters and get products from them.
This entry was posted on April, 19, 2021 at 12 : 55 pm and is filed under Metal Planter. You can follow any responses to this entry through the RSS 2.0 feed. You can leave a response from your own site.