What Are The Advantages Of Using Korbo Handmade Wire Baskets?
Posted by Admin on January, 09, 2021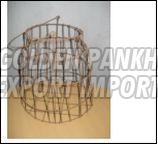 Create access for the spaces that you can not reach in your kitchen storage. You can add more storage to what you have at present. The korbo handmade wire baskets make this easier. These are the ultimate space-saving solution that has numerous benefits and also lasts longer than the normal baskets available in the market.

Following are some of the benefits of using handmade wire baskets. They are as follows:
This Helps In Saving Space
One can increase the storage in their cabinet using these baskets. Around 30% of the space can be increased using this. This is simple like removing a shelf. There is more to it. You will get baskets that have sliding mechanisms as these slid a. You can also store vegetables, laundry and other such products in these baskets.
These baskets will help you keep this organised and you get additional space in your house. The handmade baskets are easy and safe for use and the products kept inside never gets damaged.

Quality Stainless Steel And Long Life
The handmade baskets that you get in the market are usually made with the use of stainless steel wires which are resistant to rust. These baskets are worth investing. You can use these in damp prone areas as well like under the sink in your kitchen, bathroom or laundry without any trouble. Propel can also use it near the seaside suburb without any trouble.
These are highly durable and it doesn't get bend or buckle if used properly from the beginning. The handmade baskets are designed to last for a lifetime. They never get rusted and some companies give a lifetime warranty with these.

Accessibility And Transparency
Enhanced visibility and accessibility are some of the reasons why people prefer handmade wire baskets. One can see what product is kept inside from every angle. With its use, you will never forget where you can keep things and products that you use once in a while. At times we all keep food products and other such items and forget and soon it gets expired. With the use of these baskets, you will not have to face any of these situations in future.
It will become easy to know what you have kept inside. These can be easily be stored in small and compact places without any problem.

Great Weight Capacity
A handmade wire basket has a great capacity. These can hold up to forth kilograms in weight. One can store a wide range of products in these baskets without any trouble. You can keep fruits and vegetables and also plates and dishes if you want. These will never bend and buckle if you use them with care.
Unlike the other baskets that are available in the market today, these baskets are easy to clean and also the products do not move around when kept in based.

Easy To Install
For the fancy racks and basket, you need professionals for your help. The handmade wire baskets are easy to install. Save your money without compromising with quality. Get the best Korbo handmade wire baskets at an affordable price today.
This entry was posted on January, 09, 2021 at 12 : 24 pm and is filed under Basket. You can follow any responses to this entry through the RSS 2.0 feed. You can leave a response from your own site.